Stelle dich deinem Schicksal in SpellForce: Conquest of Eo - jetzt erhältlich!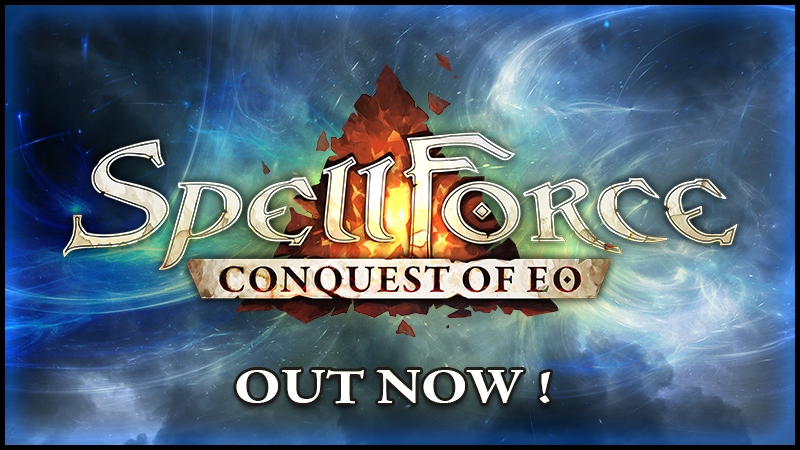 Wien/Österreich, 3. Februar 2023 - Umarme den Pfad der Magie und werde der mächtigste Magier in SpellForce: Conquest of Eo - ab sofort für den PC erhältlich! Erlebe eine einzigartige Mischung aus taktischen Schlachten und führe deine Armeen und Helden zu unzähligen Siegen. Verbessere deinen Turm, um stärker zu werden, und erobere die magische Welt von Eo in diesem sich ständig verändernden rundenbasierten Strategie-Rollenspiel!
Begib dich auf die Reise von den bescheidenen Anfängen im kleinen Magierturm deines alten Meisters und durchquere die gefährlichen Länder von Eo auf deiner ständig wechselnden Suche nach magischer Macht. Treten Sie gegen konkurrierende Fraktionen an und schicken Sie Ihre Armeen und Helden auf gefährliche Missionen, während Sie magisches Wissen anhäufen, um der mächtigste Magier aller Zeiten zu werden.
SpellForce: Conquest of Eo bietet ein einzigartiges und fesselndes Spielerlebnis, indem es Elemente von 4X-Strategiespielen, RPGs und rundenbasierten taktischen Kämpfen kombiniert. Deine mobile Operationsbasis - der Turm deines Magiers - und die schwindenden Ressourcen halten den Spieler ständig in Bewegung und verhindern so die Stagnation, die in anderen 4X-Spielen gegen Ende des Spiels auftreten kann. Stattdessen konzentriert sich das Spiel auf den Nervenkitzel der Entdeckungen und die Gefahren des frühen Spielverlaufs, während es gleichzeitig Forschung und Experimente zulässt, um die Einheiten zu verbessern, während sie aufsteigen und neue Ausrüstung und Fähigkeiten erwerben. Mit einer Fülle von prozedural generierten Abenteuern und RPG-Elementen verändert SpellForce: Conquest of Eo den klassischen RTS-RPG-Mix in ein rundenbasiertes 4X-RPG-Erlebnis, das die Spieler mit Sicherheit fesseln wird.
Sehen Sie sich
hier
den neuesten Trailer an!